Date
Tuesday, February 1, 2022 - 11:00am
WASHINGTON, Feb. 1, 2022 – The U.S. Department of Agriculture (USDA) today announced a new USDA Market News Mobile Application, providing producers and everyone else in the supply chain with instant access to current and historical market information. The initial version of the free app includes nearly 800 livestock, poultry, and grain market reports, with additional commodities added throughout the coming year.
"USDA is focused on building more resilient and transparent markets and is taking steps to promote competition and fairer prices from farmers to consumers," said Agriculture Secretary Tom Vilsack. "This new Market News app helps create a more level playing field for small and medium producers by delivering critical market information to them where they are, when they need it."
Producers and other users can search for markets based on their location, by state, or by commodity. They also can add market reports to their favorites for easier access, share reports via text or email, subscribe to reports, and receive real-time notifications when a new report is published. For additional data analysis, the app lets you share the source data behind the reports via email as well.
"One of the best features of the app is its simplicity," Under Secretary for Marketing and Regulatory Programs Jenny Lester Moffitt said. "The USDA Market News app was designed with small producers in mind. Regardless of whether you market livestock throughout the year or once a year, you can navigate through this easy-to-use tool and access the information you need on your mobile phone. Built-in tutorials help first-time users get the most out of their experience."
There are both iOS and Android versions available to download through the Apple and Google Play stores. Search for "USDA Market News Mobile Application" to download the app and begin exploring its potential. USDA will continue to expand the features of the app, including adding market information for all other commodities in the future.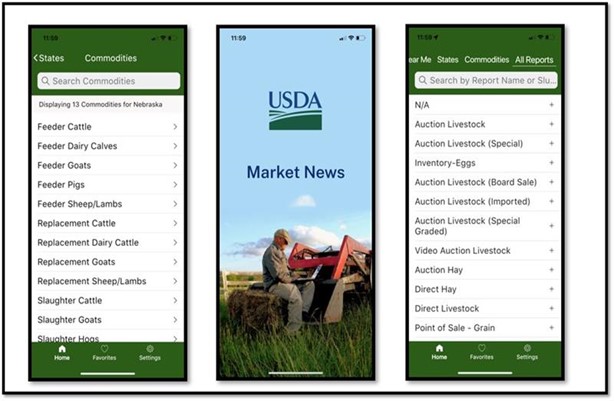 USDA Market News continues to expand its tools and resources to ensure producers benefit from the vast amount of market information available and understand how this information can provide actionable insight to inform marketing decisions at the farm and other points in the supply chain. This mobile app allows producers to access market data and reports, regardless of where they are, more effectively, efficiently, and on demand.
#
USDA touches the lives of all Americans each day in so many positive ways. In the Biden-Harris Administration, USDA is transforming America's food system with a greater focus on more resilient local and regional food production, fairer markets for all producers, ensuring access to safe, healthy and nutritious food in all communities, building new markets and streams of income for farmers and producers using climate smart food and forestry practices, making historic investments in infrastructure and clean energy capabilities in rural America, and committing to equity across the Department by removing systemic barriers and building a workforce more representative of America. To learn more, visit www.usda.gov.
Get the latest Agricultural Marketing Service news at www.ams.usda.gov/news or follow us on Twitter
@USDA_AMS. You can also read about us on the USDA blog.
USDA is an equal opportunity provider, employer, and lender