USDA has launched the Hemp eLearning Platform (HeLP) for USDA producers, states, tribes, testing laboratories, and sampling agents. There is no cost associated with any of our trainings.
Courses Currently Available:
USDA Licensed Hemp Producer Training
Initial Hemp Sampling Agent Training
Hemp Sampling Agent Refresher Training
Introduction to Hemp Testing and Labs Course
Reporting Hemp Crop Acreage with FSA
How to Enroll in HeLP Courses on the Blackboard LMS
To enroll in HeLP courses, first create an account on the USDA HeLP Genius Sign Up Page.

Genius is the Student Information System that allows you to access the courses in Blackboard, self-register for courses, and track your progress.

If you already have an account, log in to the USDA HeLP Genius Welcome Page.
Once you create an account you will be taken to your dashboard.
NOTE: To enroll in the Initial Sampling Agent Training course, send an email to farmbill.hemp@usda.gov using the subject line "Initial Sampling Agent Training Enrollment" to request access to the training.
To enroll in all other courses, click Register for a Course on the left navigation menu then click Register on the desired course.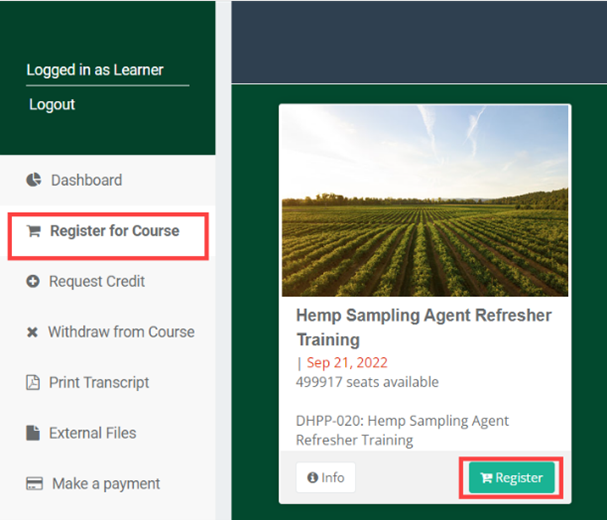 At the top right of your screen you will see your shopping cart with the number of courses selected. Click Proceed to Checkout.


Click Confirm to complete your enrollment.


Click Dashboard to return to your HeLP dashboard and access your courses.
For technical issues, please contact usdahempsupport@apvit.com. For content questions, please contact the Agricultural Marketing Service (AMS) at 888-721-HEMP(4367) or farmbill.hemp@usda.gov.