OMB 0581-0333
According to the Paperwork Reduction Act of 1995, an agency may not conduct or sponsor, and a person is not required to respond to, a collection of information unless it displays a valid OMB control number. The valid OMB control number for this information collection is 0581-0333. The time required to complete this information collection is estimated to average 1.5 hours per response, including the time for reviewing instructions, searching existing data sources, gathering and maintaining the data needed, and completing and reviewing the collection of information.
Form Number PSD-5001: Expires 05/31/2022
Help USDA and DOJ Ensure Fair and Competitive Livestock and Poultry Markets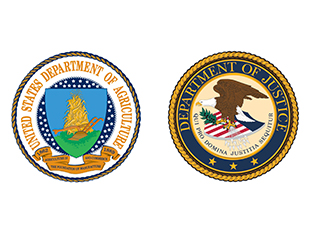 File a complaint or tip by using the form below or directly to PSD:
Email: PSDComplaints@usda.gov and ATR-USDA-PSAComplaints@usdoj.gov
Phone (toll free): 1-833-DIAL-PSD (1-833-342-5773)
Mail: USDA, AMS, FTPP-Packers and Stockyards Division, Stop 3601, 1400 Independence Ave., SW, Washington, DC 20250-3601
Any information you provide is voluntary. Comments including vulgar language may not be processed; additionally, comments including implicit or explicit threats may be referred to the appropriate authorities. Other than contact information, please do not include any personally identifying information (PII), such as social security numbers or birth dates, in your comments. For any information provided, USDA and DOJ will follow their respective Privacy and Confidentiality Policies found at: USDA Privacy and DOJ Confidentiality. Packers and Stockyards regulations regarding confidentiality also apply: PSD Confidentiality.
Note that if you do not provide your contact information, USDA and/or DOJ will be unable to contact you regarding your complaint.
The authority by which information is collected on this website form is 5 U.S.C. 301 and 44 U.S.C. 3101. Your disclosure of information to USDA and DOJ on this form is voluntary. If you do not complete all or some information fields in this form, however, USDA and DOJ may not be able to effectively respond.
The principal purpose for collecting this information on this website form is to manage complaints and tips regarding suspected violations of the Packers and Stockyards Act or any other Federal law governing fair and competitive marketing and contract growing of livestock and poultry. The routine uses which may be made of the information collected on this website form include, but are not limited to: responding to complaints and tips, initiating or furthering investigations, and referring complaints or tips to other federal or state and local agencies.
The full list of routine uses for this correspondence can be found in the System of Records Notice titled, JUSTICE/ATR-009, "Public Complaints and Inquiries File," 45 Fed. Reg. 57898, 902 (11-17-1980); 66 Fed. Reg. 8425 (1-31-2001); 82 Fed. Reg. 24147 (5-25-2017); and the System of Records Notice titled, JUSTICE/ATR-006, "Antitrust Management Information System (AMIS) - Monthly Report," 63 Fed. Reg. 8659 (2-20-1998), 66 Fed. Reg. 8425 (1-31-2001), 66 Fed. Reg. 17200 (3-29-2001), 82 FR 24147 (5-25-2017).